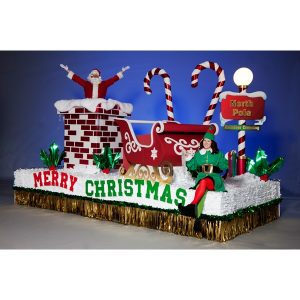 There is nothing quite like the sight of bright reds and greens to get everyone into a festive, holiday mood, but what else do you need to make your Christmas parade floats look fabulous for the season? Here are our top five picks:
Trees
As classically appealing as ever, Christmas trees and evergreens never fail to put us all in good spirits. They bring a sense of hope and cheer that this holiday just might be the best yet.
When choosing trees for Christmas parade floats, consider the size of the trailer and the possible weight it can hold. If you can't find a real tree that will fit with the rest of your float decors, you might want to opt for plastic or full-color cardboard standup versions that are just as delightful; they weigh less, too, so there would be less strain for the trailer. If you are going for a non-traditional holiday parade float concept, then our set of Lit Trees will work perfectly for you. They come with floral sheeting in your choice of metallic shades that will certainly catch the eye of the audience and enhance the overall look of your design.
Snow
Sure it's fun to dream of a white Christmas. But it's better to make it a reality and adopt it into your Christmas parade floats design.
Create a snowy landscape effortlessly with our Snow Floral Sheeting (also available in iridescent). Available in easy-to-use rolls, these floral sheetings will dress up the trailer bed in no time. Sprinkle some artificial snow onto your other decors or dust them off into other areas of the trailer. We will share some secrets with you on how to achieve this in our next articles.
Lights
Lights put the "merry and bright" into the holidays. So make sure that you have plenty to dress up your float.
When you don't have the time to mess with wiring or if space is limited, the best solution for your lighting needs is to use Flex Lights. Encased in flexible see-through cables, these lights are optimized for outdoor use — no need to worry about these getting wet or malfunction when there is a slight drizzle or when snow is falling.
Start off by adding lights to all the major design pieces of your Christmas parade floats — trees, backdrops and other focal points. If you're going with a gingerbread house or a castle, make sure that lights run through the structure's outline; this makes it more visible especially during the twilight or evening. Add more lighting effects as you see fit. Use strips of fairy lights, strobes, or projections to make your design more fun.
Costumed Characters
What's Christmas without all the delightful characters? Santa, Elf, Reindeer and more! Call up the magic of the yuletide and populate your Christmas parade floats with any or a combination of them.
Cardboard standups are a great way of adding these characters to your float. They're bright, colorful and lightweight so they're easy to move around and set up.
Have a live performer dress up as a reindeer or any of the elves especially if you're going for a Santa's workshop concept. Extra points if you can have someone (or better yet a couple) to play up as Santa or Mrs. Claus to enliven your Christmas parade floats.
Trimmings
Think sleigh, Christmas balls, holly, candy canes, stockings, gifts and presents, stars, bells, North Pole light stand kit, ribbons — these and more will certainly add a joyous feel to your design. Explore the whole gamut of holiday decors to tie up your concept nicely.
Bonus Tips
Music — Fill the air with jubilant, heartwarming tunes; no one will be able to ignore your float if you can make it as party-ready as you can.
Letter Kits — Spelling out a holiday message can be fun; grab a bunch of these letters and dress up the sides of your trailer or backdrop.
Complete Parade Float Kits — When you don't have the luxury of time to come up with a new concept, these will do in a pinch (and very nicely, too, as they're filled with everything cheery to get you decorating).
Giveaways — The heart of the season involves a lot of giving so make sure you have plenty of goodies, sweets and treats to hand out to spectators. See our Giveaways for more ideas.