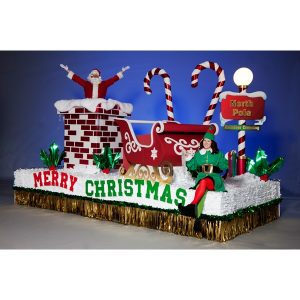 There is nothing quite like the sight of bright reds and greens to get everyone into a festive, holiday mood, but what else do you need to make your Christmas parade floats look fabulous for the season? Here are our top five picks:
Trees
As classically appealing as ever, Christmas trees and evergreens never fail to put us all in good spirits. They bring a sense of hope and cheer that this holiday just might be the best yet.
When choosing trees for Christmas parade floats, consider the size of the trailer and the possible weight it can hold. If you can't find a real tree that will fit with the rest of your float decors, you might want to opt for plastic or full-color cardboard standup versions that are just as delightful; they weigh less, too, so there would be less strain for the trailer. If you are going for a non-traditional holiday parade float concept, then our set of Lit Trees will work perfectly for you. They come with floral sheeting in your choice of metallic shades that will certainly catch the eye of the audience and enhance the overall look of your design.