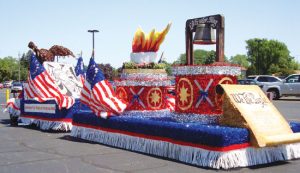 It can be overwhelming to create a parade float from scratch. If you're making a patriotic display for the Fourth of July or Memorial Day, we've got you covered. Parade Float Supplies Now has a huge selection of patriotic, red-white-and-blue items you can mix and match to build something you can be proud of. You can come up with your own idea and build your float from scratch with our patriotic supplies, or you can make it easier on yourself and grab a complete patriotic parade float decorating kit with everything you need included for a unique jaw-dropping design. For more inspiration, take a look at patriotic customer creations at the bottom of this post
Patriotic Parade Float Decorating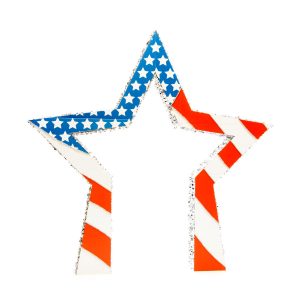 The first step is covering your parade float vehicle. Floral sheeting is a durable and flameproof decorating material that is available in a variety of colors and is perfect for covering your entire float bed or creating smaller float elements. Fringe or skirting is perfect to add a pop of color to the edges of your parade float, create backdrops, or add depth to elements on your float. Use festooning to cover the edges of your parade float or for decorations on doorways, arches and tables. There are also decorating kits to make it easier to get the basics finished.
For pure, powerful patriotism, there are plenty of huge parade float items to display, like the Star Arch, the USA Letter Stands, and the Shooting Stars kit. These items have red, white, and blue themes, and are a huge focal point when you add them to your float. Some of them can be upwards of seven, eight, or nine feet high! Stars, stripes, and more help your float catch the eye of any parade audience.
When you have your big items picked, remember there's still more to do. Items like the USA Flag Pennant Banner add a little bit more decoration to your float, without making everything too heavy. Think about adding some red, white and blue lights if you think your parade will start to get dark. You can customize these items even if you don't have an American theme.

Once you have all the patriotic items listed, there's still more you can use to decorate your float. Generic, colorful items like balloons, and curling ribbon help you add finishing touches no matter where you need them. If you're designing a float for another reason, these items are helpful for making everything look perfect.

When the day has finally arrived, make sure you have something to fling to the viewers! Hats, confetti poppers, beads, candy, and even custom stickers give you plenty of options for patriotic giveaways. Grab a mascot costume to make handing them out fun. 
Building a complete patriotic parade float can be time consuming and overwhelming. We offer unique complete decorating kits to take the stress out of your event.