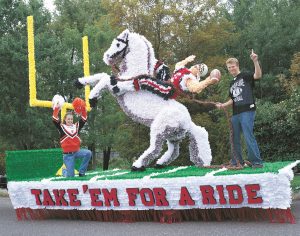 Parade floats are an amazing sight to see during celebrations and on very important events. Many times we are asked how to build a parade float. Surprisingly, they're easy enough to build with the right steps, materials, great ideas and a lot of patience and helping hands. Try our easy-to-follow guide on building a parade float:
1. Brainstorm for ideas.
Discuss with your team the theme or design of the float including the color motif and materials you're going to use. Here are the important questions to consider before building your float.
How big is the float? How elaborate is its design?
The answers to these questions will help determine your budget and the materials you need to make your ideas come to life, whether it is to create something grand in order to win a parade float contest or just to come up with something basic to show your group's participation. Alternatively, instead of building floats from scratch, you can create an awesome one with complete kits and work on it immediately.
How many people do you have available to work on the float? How much time can each devote to the project?
Building a float requires team effort and a lot of dedication. It's important to get the commitment of each individual before working on the float so you can determine how much time you need from every person, as well as who's going to cover in case someone is unexpectedly detained at work / doing some personal errands.
Where are you going to build your float? How can you secure it, including the materials and equipment?
Given the size of the trailer, the variety of materials and equipment and the number of people and procedures involved, you're going to need a sizable location. It can be your organization's backyard, parking lot, or a safe enough clearing. Just make sure that it's amply-sized and keep it safe from the elements by installing a tent or any reliable protective covering. Rain and extreme heat are not ideal for the float or to the volunteers.
2. Secure materials and location for building the float.
You can't learn how to build a parade float without the right materials. Get your ideas rolling with this short list of basic materials:
Low-boy Trailer or Hay Wagon
Chicken wire and pieces of wood — for the framework
Props, Decorations & Separates — like arches, tissue paper poms, shapes, streamers, ribbons, banners, balloons
Letters & Numbers – spell out what you would like to say
Paint & Painting Kit – to paint the wood, cardboard, and styrofoam
Tape, stapler and other adhesive materials – we even have tool kits already made for you!
Prep your chosen location so that all the items you need are within reach and could be easily stored once you're done. Tip: If you're using glitter, it will end up everywhere, so prepare!
3. Build a framework.
The best floats are a good balance between sturdily made and beautifully decorated. Start your float by constructing a firm framework that can withstand the number of jostling it will take as you decorate your float or the whistling of the wind as it cruises down the parade grounds come the event day.
4. Have fun decorating!
Keeping your theme or design in mind, use the materials you have selected and work your magic to make your float look incredible. Don't be afraid to go all out and be as creative as possible!
Some tips and tricks:
Building floats can take a long time. Working in tandems or small groups can help keep the tedium at bay. Pop in some music to inspire everyone to work their best and boost the group's productivity. Before the end of the day, a supervisor or leader could check the team's progress against your schedule and make decisions whether you need some extra time to finish the day's work.
The brighter, the better! Choose decors and accessories that can easily attract the crowd's attention. If you're working with dark colors, make sure to add lights, sparkling or glittering letter kits or twinkling accents.
Now you know how to build a parade float. If you feel that your design needs an extra oomph, accessorize with balloons, separate kits, mascots, large DIY paper flowers, and more.